I've made it known on Barn Finds that I'm a bit of a fanatic about 80s BMWs. I own a 1987 325is and a 535is of the same year. I've always been partial to the early E30s for that reason, especially the higher-end models that set it apart from the every day 325E and 318I models. While examples like my IS were considered the poor man's alternative to the M3, the ES was an option for consumers who wanted efficiency but didn't want to miss out on the goodies that were unique to models with an "S" at the end. As prices for E30s have risen and the good ones get snatched up by bandwagon boyracers, cars like this 1986 325ES on Maryland's craigslist for $3,900 are getting harder to find.
The S models got the best options BMW had to offer: the aggressive front air dam with integrated fog lamps; rear decklid spoiler; thickly bolstered sport seats; three-spoke sport steering wheel; 14 inch BBS basketweave alloy wheels; and numerous other features, from an on-board computer to premium stereo systems. The overall package is one that still looks good today, though finding a car with these original options attached takes a good amount of luck. It pains me how many cars I've seen with those hard-to-find bits parted out to fund a turbo build or some other performance dalliance that kills off any originality. Sorry, folks – I'm a purist.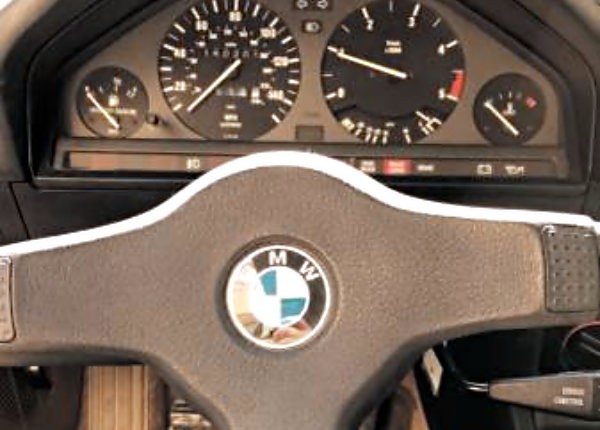 The "E" models were more fuel efficient than the "I" vehicles, but actually gained a larger version of the venerable M20 motor – a 2.7L came in cars like this 325ES, while the I versions made due with a 2.5. And while the E cars gave up several horsepower to the 325I, it compensated for the loss with more torque. All things considered, either engine is a great choice since they are bolted to the excellent E30 chassis. The listing doesn't mention any signs of rust and the bodywork appears fairly straight, aside from a dent mentioned in the ad. The hard-to-find pieces are present and accounted for, including the air dam, fog lights, sport interior and BBS wheels – all good signs.
Many of these cars have fallen under the knife, either victim to dubious engine swaps or suspension modifications that sacrifice the car's natural handling abilities in favor of visual enhancements (purely in the eye of the beholder, I might add). The seller lists the manual transmission as one of the "newer parts" added in the last 500 miles, which makes me wonder if this car was swapped from an automatic. That's one modification I'm OK with, as it's a straightforward swap and will make the car eminently more enjoyable to drive. There will be a day soon when it will be all but impossible to find these cars in stock condition, so act fast if there's an E30 on your project car bucket list.