This is perhaps one of the most unloved muscle cars of the last 30 years. The third-generation Camaro didn't come onto the scene with the greatest reputation, as the performance models from the Big 3 of this era were known for being poor imitations of the models from the '60s and '70s that gave these cars their beastly reputations. While the power was certainly down and raw numbers weren't up to the levels of its ancestors, I'd still rock the T-tops and take a chance on an IROC-Z like this 1989 example listed here on eBay for $4,500.
Looking back, the 350 L98 motor that this car is equipped with really was no slouch. 225 bhp and 330 ft. lbs. of torque are decent numbers even today, though in this example it's bolted to a fun-sapping automatic transmission. Other enhancements as part of the IROC-Z package included firmer suspension components, a lowered stance, staggered wheels and tires, bigger sway bars and the obvious logos and body graphics. Though there were a handful of limited production models like the 1LE that made the overall package quite a competent handler, those rarely pop up for grabs. The next best thing is a clean, stock Z28 like this example.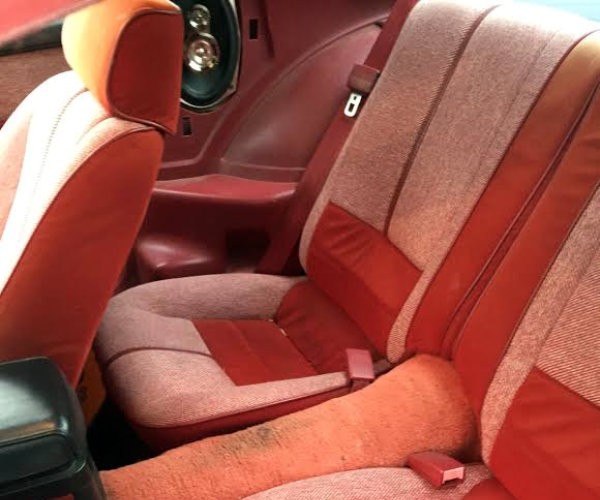 The seller doesn't offer up much information, and mentions that the car has been passed between his children. This seems like a risky car to give to new drivers, but it appears to have survived unscathed. From the pictures, I think the low-mileage claim of only 109K holds up, as the body work appears clean and the interior is adequately worn for its age. I'd want to find a stock steering wheel along with speakers in the correct size so the grills can be re-installed. The carpet may come back to life with a cleaning, but the driver's seat definitely has a tear on the bolster that will need addressing if you're a perfectionist.
There are days when I really want to add a cheap muscle car to the stable. I don't really get too hung up on the speed factor; more important to me is a manual transmission and some suspension upgrades to eliminate unsightly wheel gap. My preference would still be a notchback Fox Body Mustang, but I'd take its Bowtie counterpart in a pinch. This car appears to have survived incredibly well for having two younger drivers at the wheel, but an in-person inspection would still be prudent. Would you consider this Camaro IROC-Z to fulfil your muscle car fantasies?