When you think about the cars that top an enthusiast's wish list for cheap projects, the usual suspects are there: GTIs, Miatas, 944s, and the like. I don't often hear the words "Probe GT" thrown in to the mix despite a fair amount of reporting that seemed to indicate it was a half-decent way to get from Point A to Point B. Even harder to find is a clean first-generation Probe that came from the factory with a turbocharged and intercooled 2.2L 4-cylinder, unless you happen to live near Wichita where one in excellent condition is listed here on craigslist for $2,200.
The Probe caused quite a stir among the Ford faithful when it was first introduced, and not necessarily for the right reasons. It was proposed as a replacement for the disappointing EXP, which was effectively swoopy sheetmetal draped over an Escort chassis, delivering neither the performance nor the handling qualities customers sought in a sporty hatchback. The Probe, a joint venture with Mazda and built at the same plant that manufactured the 626 and the MX-6, was even floated as a potential replacement for the Mustang, which was quickly shouted down by the V8-loving, rear-wheel-drive faithful.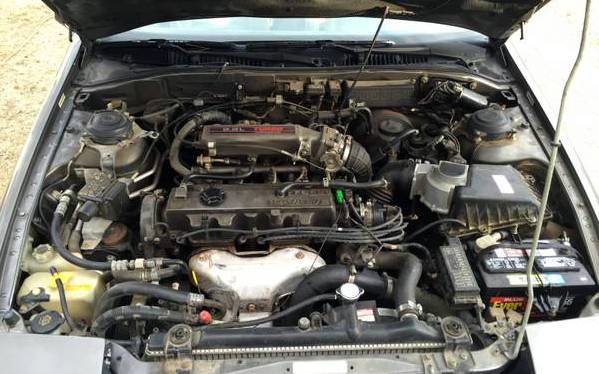 Despite this initial friction, the Probe entered the market with high hopes – and a high price tag for its class. Though not a sales success, I've always felt the GT model offered a lot of bang for the buck. Obviously, there's the turbocharged and intercooled engine that pushed out 190 lbs. ft. of torque, along with a unique suspension that featured a range of adjustability settings and 4-wheel disc brakes. I've always been a sucker for pop-up headlights, and the rear hatch versatility made this a sporty coupe you sell yourself on for the added convenience and storage space. And those totally-80s slicer wheels? Yeah, I love those, too.
By now, many of these Probes have already been around the cheap used car block more than once. That means they're ratty, modified or just plain sickly-looking. Fortunately, this example seems to have escaped those ugly fates and is super clean, right down to the bolstered front seats. With a tick over 100,000 miles, you can bet the Mazda underpinnings have a lot more life left in them, and the charcoal over gray combination is a nice change of pace from the red of fuchsia colors so many Probes come in. I hope this car finds a good home and doesn't end up some teenager's boost project, because there aren't many left and the ones that remain in this condition grow fewer by the day.