Of all the automotive trends that have emerged over the last 25 years, the fast pickup truck is among my favorites. Utterly pointless and completely counter to the point of a truck with a bed, these hot rod haulers thumb their noses at sensibility, and isn't that the calling card of some of our favorite niche vehicles? No one ever said the Countach made sense, and the Ford F150 Lightning isn't much further away on the silly scale. But then again, an F150 can make dump runs, which is more than be said for the Lambo. Check out this '94 Lightning here on craigslist in Tennessee for $3,800.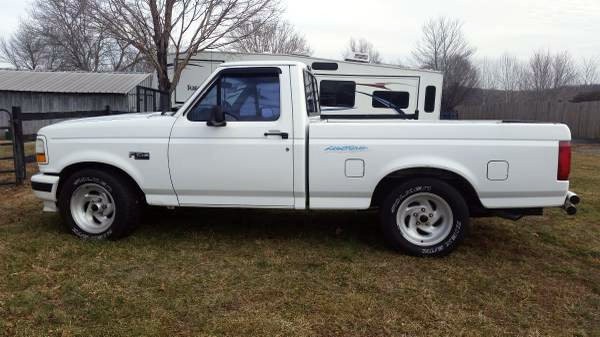 Of course, to understand why the Lightning was ever produced, you have to look at the era it was sold in: GM was churning out Syclones and Typhoons, and Chevy had the blacked-out 454 SS in showrooms. The proverbial shot-across-the-bow had occurred, and Ford needed an answer. There are some parallels to the era we're currently in, wherein good sense gives way to horsepower wars, with manufacturers giving the green light to vehicles that might otherwise never make it off the drawing board. A fleet of fast pickups on dealer lots was one such era, which coincidentally followed on the heels of Dodge offering a convertible version of the Dakota.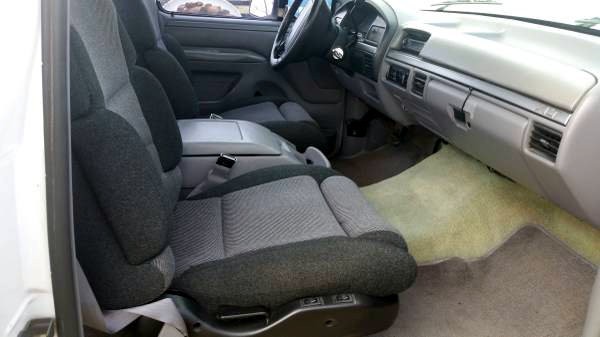 The F150 Lightning was powered by a version of the 351 Windsor V8, giving the truck a stump-pulling 340 lb-ft of torque and 240 horses under the hood. The Lightning eclipsed 60 in under 8 seconds, and was available only with a 4-speed automatic. Give credit to GM for letting owners row their own gears in the Syclone, if desired, but there's something to be said for just dropping it into drive and letting the transmission and 4.10 gearing do the work in concert with the standard limited-slip. One of my favorite features of the Lightning engine is the GT-40 aluminum cylinder heads developed by Ford's skunkworks team of motorsports engineers, adding some pedigree to the overall package.
While the miles are high on this craigslist example, the truck appears clean and stock, with no major deviations from new. White is one of the rarer colors, added for the 1994 model year. The color-keyed bumper and air dam, along with the attractive alloys, round out the package for me, and I'd choose this any day over the 454 SS from Chevy. While the Syclone may be the one enthusiasts fawn over, the Lightning is a gem that we'll all wish we jumped on when they're gone.